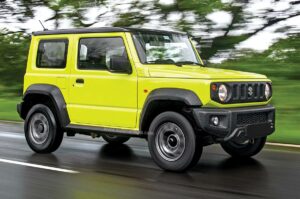 The Suzuki Jimny is a compact SUV that has been in production since 1970. Over the years, it has developed a cult-like following among car enthusiasts and off-roaders due to its rugged capabilities, distinctive design, and retro styling. In recent years, the Jimny has seen a resurgence in popularity and is often referred to as the "return of the (Gypsy) King."
The Jimny's off-road prowess is one of its biggest selling points. With its four-wheel drive system, low-range transfer case, and high ground clearance, the Jimny is capable of tackling rough terrain and steep inclines with ease. It's also small enough to navigate tight spaces and squeeze through narrow trails that larger vehicles simply can't. This makes it an ideal choice for off-roaders and outdoor enthusiasts who want a vehicle that can take them to remote locations.
In addition to its off-road capabilities, the Jimny also offers a unique, retro design that sets it apart from other compact SUVs on the market. The boxy shape, round headlamps, and upright grille are reminiscent of classic SUVs from the 80s and 90s. The overall design is simple and functional, yet charming and stylish. The Jimny's design has been praised by car enthusiasts and automotive journalists, who appreciate its retro styling and attention to detail.
Another reason why the Jimny is so popular is its practicality. Despite its small size, the Jimny is surprisingly spacious inside, with enough room for four passengers and a decent amount of cargo. The interior is also well-appointed, with a simple yet functional layout that's easy to use. The Jimny also offers excellent fuel economy, making it an economical choice for those who want a vehicle for everyday use.
The Jimny is also highly customizable, with a range of aftermarket parts and accessories available to enhance its off-road capabilities, performance, and appearance. From lift kits and larger tires to roof-mounted tents and custom lighting, there are countless ways to make the Jimny your own. This customization potential has helped fuel its popularity among car enthusiasts and off-roaders, who love the idea of building their own unique vehicle.
In conclusion, the Suzuki Jimny's return as the "Gypsy King" is a testament to its versatility, capability, and style. It offers car enthusiasts and off-roaders a compact SUV that's capable of tackling tough terrain, yet charming and practical enough for everyday use. With its retro styling, well-appointed interior, and customizable options, the Jimny is a popular choice among those seeking a unique, capable vehicle that stands out from the crowd.